Hello,
I'm Dax Holt.
Host, Personality, Entertainment Guru.
About Dax
Most people know Dax Holt from his 11 years as one of TMZ's main on-camera personalities. Over the last decade, Dax has become a pop culture expert and has shared his insight on numerous hit shows such as: On Air w/ Ryan Seacrest, Fox & Friends, American Idol, The Kevin & Bean Show and the list goes on and on.

Others may recognize Dax after he became a finalist during Kelly Ripa's national competition to fill her co-host chair on "Live! With Kelly." Dax spent a week in NY battling it out live on her show, while capturing hearts across America.

Originally from Denver, Dax was born in the basement of a small house in the heart of Colorado. For much of his childhood, Dax gravitated toward the world of entertainment, so it only made sense he would end up in the field one day.

Although Dax has always seemed to be a natural on TV, his journey almost went in a very different direction. After years of being set on becoming an architect, even being offered a scholarship to attend a prestigious architectural college in California, a last minute realization changed his whole career path. Dax passed up on the scholarship opportunity and began investing time at his local community college's TV news program. He was instantly hooked. Much of his time at Santa Ana Community College was spent exploring every facet of news production. However, he seemed most at home in front of the camera. After locking down an internship at "Extra TV," Dax got his first glimpse of the entertainment news business. His real start came at an unknown website being launched by Harvey Levin called TMZ. Dax's hard work and talent quickly moved him up the ladder as TMZ became an international brand. Before long, Dax began heading up the clips clearance department and managing a growing team while the company continued to expand. During his time there, he received 2 Emmy nominations for his work as a producer for the hit show.

Dax currently resides in Anaheim Hills, California with his wife Denise and their two children, Skylar and Nico.

Tweets by daxholt Follow @daxholt
DAX IS ON A SLOT MACHINE!
Check out Dax on the TMZ slot machine! Now in casinos nationwide. Find one near you.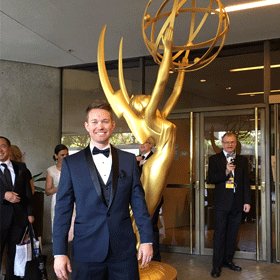 EMMY NOMINATED AGAIN!
Dax has once again been nominated for a Daytime Emmy for his work as a producer on TMZ. The show was first nominated in 2014 for 'Outstanding Entertainment News Program' and then again in 2016. Full gallery below.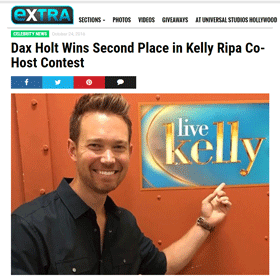 EXTRA'S WRITE-UP ON DAX
Extra TV followed Dax along his journey to sit in Kelly Ripa's co-host chair. Check out his video diary and accompanying article.
Prince's Shocking Death News
The Daily Share
HLN
Dax Holt was live on air with HLN's Mike Galanos when the news of Prince's death broke. Watch it unfold.
Live! with Kelly competition
Live! with Kelly
ABC
Dax's final challenge during the Live! with Kelly competition. Finalists had to read tongue twisters off a teleprompter while being pelted with beach balls, confetti bombs, smoke cannons and being forced to eat whipped cream.
Dax Chats about all things Hollywood
Access Hollywood Live
NBC
Dax joins Access Hollywood Live's "Plugged In Panel" to discuss the day's top trending Hollywood topics.
Dax's ALS ice bucket challenge
Ice Bucket Challenge
YouTube
Verne Troyer challenged Dax to an ALS ice bucket challenge. He accepted using Icees, then passed the challenge on to Jillian Barberie, Coco and Danielle Fishel.
TMZ reacts to Dax on Live!
TMZ
FOX
Former TMZ staffer, Dax Holt, was competing to be a guest cohost on 'Live! with Kelly' but unfortunatly didn't win and some think its all Harvey's fault!
Dax on with Dr. Drew
Dr. Drew On Call
HLN
Dr. Drew and Dax discussing the possibility of an inmate who is claiming to be Prince's son.
Dax's Latest Instagram Posts
UTA
Andrew Lear
(310) 273-6700
9346 Civic Center Dr.
Beverly Hills, CA 90210
For booking inquiries, questions or comments please fill out a message request below.